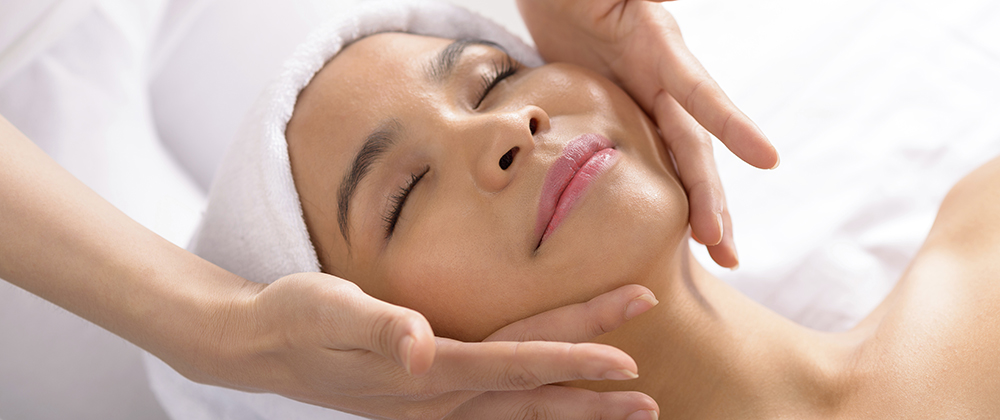 With today's advanced technology and the rediscovering of the value of essential oils and botanicals, there have never been so many options for healthy, younger looking skin. Our facials (with the exception of express, peel or mini services) begin with our Signature Botanical Footbath and a relaxing cup of tea. If you would like a complimentary make-up touch-up after your facial, please ask when you book your appointment.
Get straight to your treatment – Print and fill out your Facial intake form and bring it with you to your appointment.
Changes Signature Facial
A thorough skin analysis will determine which facial is right for you. This treatment allows 15 extra minutes of pampering including hand, arm, shoulder, neck and foot massage, as well as heated mitts! Complete with fruit enzyme exfoliation, extractions and a custom mask.
From $101
Book Now
Gift Now
Acne/Sensitive Skin Facial
Bring peace to inflamed, irritated skin. This facial is perfect for anyone dealing with oily acneic skin. Cleanses deep to exfoliate and unclog pores, combat oily skin, clear unwanted blemishes and blackheads. Weekly treatments combined with specially formulated home care regime are best if severe conditions exist.
From $105
Book Now
Gift Now
Acoustic Body Balancing
Awaken your senses and restore your body's natural balance. Our So Sound® lounger promotes deep relaxation through a blend of ambient tones and soothing vibrations to intensify your spa experience.
15 minutes $27
30 minutes $54
45 minutes $81
Request Appointment
---
Cancellation/Rescheduling:
All services must be reserved with a credit card or gift certificate number. We kindly ask for a 24 hour cancellation notice for a single service and 48 hours for multiple services or packages. Missed appointments or late cancellations will be billed at a minimum of $15 per service.