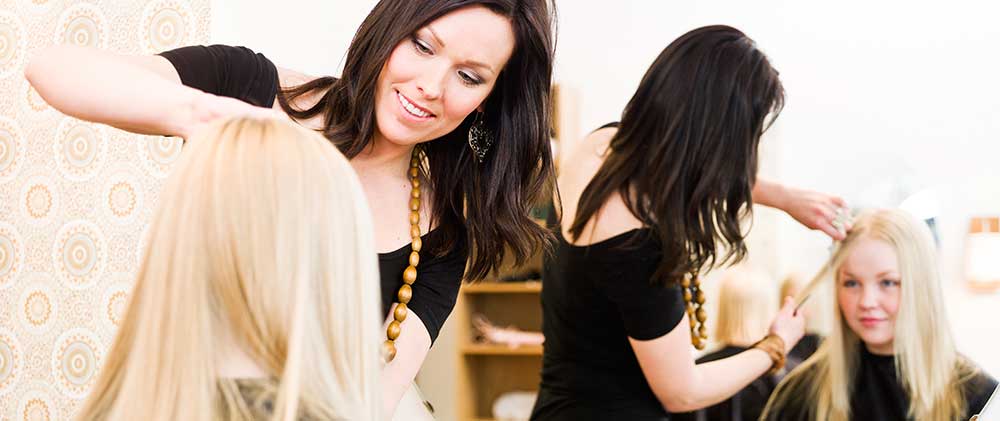 Education & Training
We realize the importance of education in staying competitive in the salon and spa industry. New staff with experience must demonstrate their skills to our educators so we can confidently refer our clients to them. If there are areas where skills could use polishing, we provide training. For technicians who are new to the industry we have our Associate Training Program. Our staff also enjoys ongoing trend and technique training to keep them on the cutting edge.
Compensation
Our compensation system is designed to promote a team environment. It provides our staff members a guaranteed income and unlimited growth potential with monthly bonuses and scheduled reviews. The technician who most benefits from our compensation structure has the following characteristics…
Excellent customer service and advanced communication skills
Is willing to be trained and/or retrained on every aspect of providing service
Will check their ego at the door and be part of a close knit team
Benefits
Medical, Dental and Vision Insurance
401K plan with Profit Sharing
Paid Time Off
Paid Holidays
Technical Education
Job Opportunities
ASSOCIATE: Licensed Cosmetologists, usually new to the industry. Associates attend training classes and assist stylists.
HAIR STYLIST: Stylists are placed into our Level system based on their experience and advanced training.
MANICURIST: We offer a full range of nail services but specialize in natural manicure and pedicure services.
ESTHETICIAN: Our Estheticians are trained in facial services, microdermabrasion, peels, waxing and make-up.
MASSAGE / SPA THERAPIST: Our therapists offer a variety of massage / spa services including, Deep Tissue Massage, Aromatherapy, Body Wraps etc.
RECEPTIONIST: The front line of the business! Receptionists greet clients and check clients out at the front desk, as well as scheduling appointments. This is a fast paced position for someone who is dedicated to providing excellent customer service.
STAFF SUPPORT TECHNICIAN: Supports the organization through a variety of tasks. Errands, mailings, inventory stock, laundry, etc.