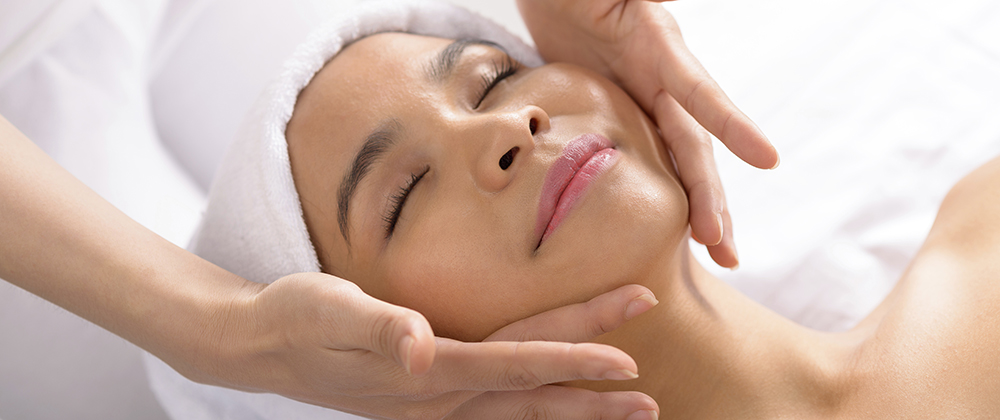 With today's advanced technology and the rediscovering of the value of essential oils and botanicals, there have never been so many options for healthy, younger looking skin. Our facials (with the exception of express, peel or mini services) begin with our Signature Botanical Footbath and a relaxing cup of tea. If you would like a complimentary make-up touch-up after your facial, please ask when you book your appointment.
Get straight to your treatment – Print and fill out your Facial intake form and bring it with you to your appointment.
Changes Signature Facial
A thorough skin analysis will determine which facial is right for you. This treatment allows 15 extra minutes of pampering including hand, arm, shoulder, neck and foot massage, as well as heated mitts! Complete with fruit enzyme exfoliation, extractions and a custom mask.
from $99
Vitamin C Facial with Antioxidants
This potent Vitamin C and antioxidant facial helps to protect the skin from the harsh elements of the environment, including sun, stress, pollution and smoking. Complexion will look smoother, firmer and feel softer.
from $83
Oxygen/Vitamin A Facial

Voted number 1 facial in the London Times, this oxygenated/Vitamin A treatment is antioxidant, anti-aging and helps to calm acne prone skin. Perfect for your first or hundredth facial. Great for all skin types.
from $98
Deep Cleansing Facial
For Problem Prone, Acne or Oily Skin Breakouts can affect your skin at any age because of stress, diet, hormones or lifestyle. After a skin analysis, the face is cleansed, treated and masked for your particular needs.
from $83
Ultra Hydration Facial
Perfect for dry, dehydrated or moisture depleted skin. This facial includes a thorough exfoliation to remove excess dead skin, allowing moisture to penetrate and leaving you with a younger more supple looking complexion.
from $83
Capillary Calming or Rosacea Facial
Whether you have oily/acneic skin, dry/flaky Rosacea, or redness from broken capillaries, this facial will be customized to meet your needs. Vitamin C will be infused into the skin and complexion will look visibly improved.
from $83
Radiant Skin Facial
For clients with sun damage or hyperpigmentation this exfoliating facial is power packed with nutrients and brighteners to help repair photo-damaged and uneven skin tones…leaves skin looking radiant!
from $83
Changes Express Facial Treatment
Great for those with no serious skin care problems and/or those on limited time schedules or budget.
from $65
Express Teen Facial
This 45-minute service is perfect for combating the challenges facing teen skin. The skin is cleansed, extracted, masked, hydrated and protected. For teens only
from $65
Acne/Sensitive Skin Facial
Bring peace to inflamed, irritated skin. This facial is perfect for anyone dealing with oily acneic skin. Cleanses deep to exfoliate and unclog pores, combat oily skin, clear unwanted blemishes and blackheads. Weekly treatments combined with specially formulated homecare regime are best if severe conditions exist.
from $103
OM4 Organic Male Facial
This results-oriented facial includes a significant amount of massage to the face, neck, shoulders, arms, hands and upper back. Designed by men, for men - He will see a visible difference in his skin and feel relaxed and renewed.
from $89
Purifying Back Treatment
A relaxing customized back facial. It exfoliates the skin, refines the pores and begins to heal back acne for the ultimate in grooming and beauty.
from $83
Acoustic Body Balancing
Awaken your senses and restore your body's natural balance. Our So Sound® lounger promotes deep relaxation through a blend of ambient tones and soothing vibrations to intensify your spa experience.
15 minutes $25
30 minutes $40
60 minutes $55